This homemade deodorant with shea butter is extremely simple and only needs 5 ingredients! You can make it within a few minutes, which is great when you're short on time!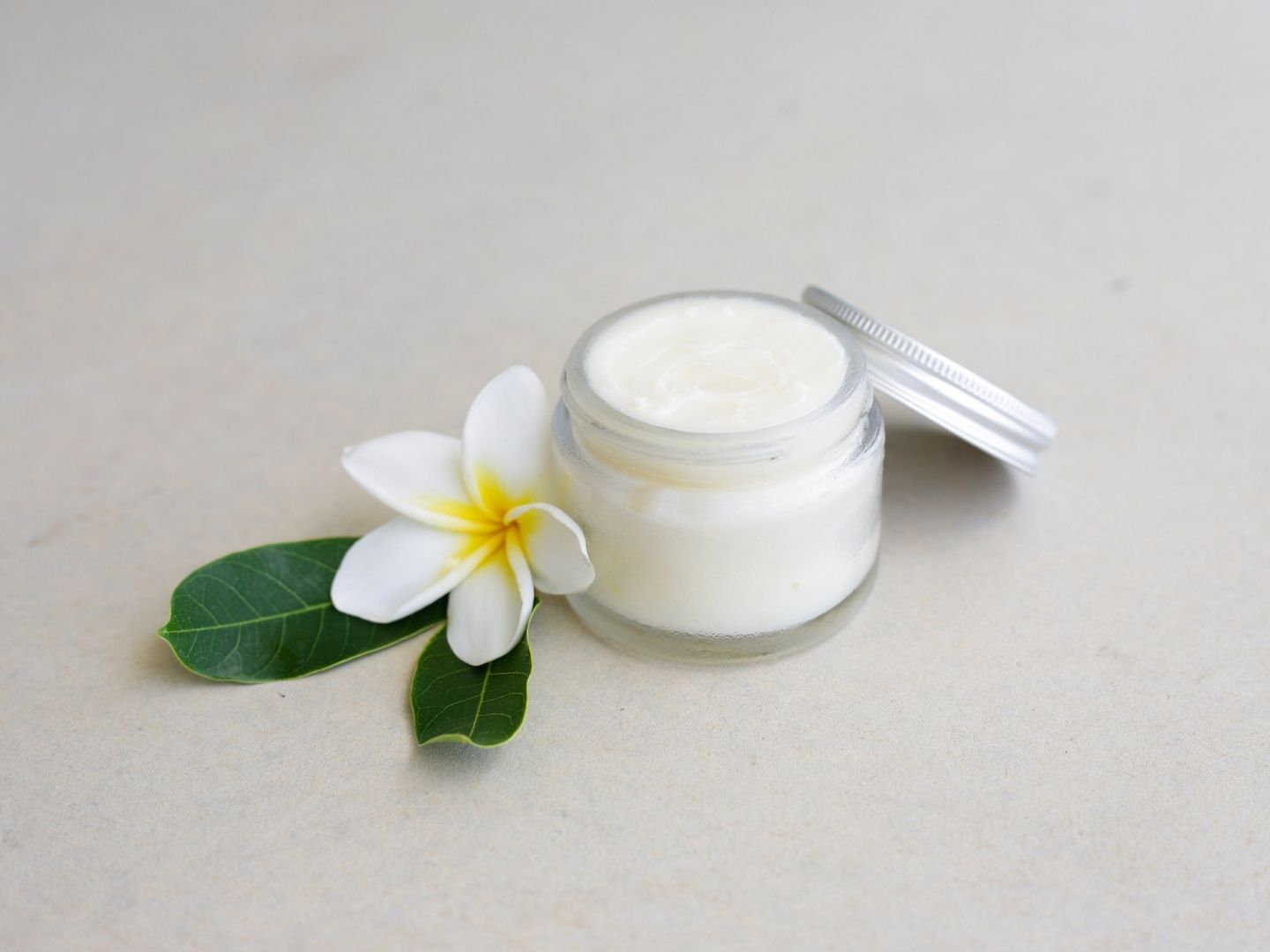 Making your own deodorant can be tricky sometimes, I know. Finding the right ingredients plus adding the right amounts is truly difficult.
Contents
I've tried many different recipes throughout the years and have come down to this creation. Adding shea butter to my homemade deodorants was indeed a game-changer!
Shea butter not only gives you the right consistency for your deo, but it also moisturises your armpits simultaneously. And the great thing about shea butter? It's safe for all skin types!
Ingredients
Affiliate Disclaimer: This article contains affiliate links. That means I may earn a small commission, if you purchase the linked product, at no extra cost for you.
shea butter (preferably raw, unrefined, organic like this one)
oil
tapioca / arrowroot powder (without preservatives!)
bicarb / baking soda
essential oils
Shea butter
Shea butter is anti-inflammatory and anti-fungal which makes it a great ingredient for a homemade deodorant. And as mentioned just earlier, it also moisturises!
It's always a good idea to use raw, organic, unrefined shea butter because it's purer and cleaner, without any nasties and it hasn't been processed!
Oil
I love using oils high in vitamin E like sweet almond oil or apricot kernel oil. Vitamin E is a powerful antioxidant, soothes skin irritations and helps nourish your skin. The oil in this recipe is used to soften, or dilute, the shea butter. So you may like to use any other oil, like coconut oil or olive oil.
Tapioca/Arrowroot Powder
Tapioca is added not only to form a paste but also because it absorbs wetness on your skin. Most likely, you'll still sweat of course because this is a deodorant, not an antiperspirant. However, tapioca will keep your sweat at bay, for a little bit anyway.
Avoid tapioca starch or arrowroot powder that contains preservatives!
Bicarb/baking soda
Just like tapioca, bicarb soda is an active ingredient that absorbs moisture. On top of this, and the reason why it's so effective, it kills odour causing bacteria. The downside, however, is that it often causes irritations on the skin making it a less popular ingredient amongst those with sensitive skin.
I used to suffer big time from the harshness of bicarb soda, leaving me with rashes under my armpits which burned and stung like crazy. I started to avoid it in my homemade deodorants.
However, just recently, I've come across an article on my research saying it's very important how much bicarb soda you use in your deodorant! And that made me wonder… would my deodorant still work as effectively, if I used less bicarb?
The answer is yes! Well, for me anyway (you might have to try and test this, how much is enough for you). Only using a teaspoon in this recipe is not only enough for me, but also I'm rash-free, even after shaving!
Essential Oils
Essential oils are technically not necessary for this homemade deodorant with shea butter to work, however, they add a nice scent and may help with reducing the number of bad bacteria under your arms (depending on which oils you use).
The most popular oil is tea tree oil because it's known to be antibacterial. Also, it helps soothe irritations. Lavender is great for that as well!
I'm listing some of my favourite essential oils and their uses down below. Additionally, I give you some nice combinations you could try!
Antibacterial: any citrus oil (like lemon, orange, etc., but keep in mind: citrus oils are phototoxic which means they react to sunlight and could cause irritations…you might want to avoid citrus oils in summer when tanning, for example), lemongrass, tea tree, cypress, cedarwood, eucalyptus, clary sage, lavender, thyme, rosemary
Soothing: lavender, tea tree, geranium, sandalwood
Floral scent: lavender, ylang-ylang, geranium
Woody, earthy scent: Siberian fir, eucalyptus, tea tree, cypress, cedarwood
Citrus scent: lemongrass (not phototoxic), mandarin (not phototoxic), lime, lemon, orange, tangerine, grapefruit, bergamot
Combinations
lavender, clary sage, cedarwood (balancing, soothing, grounding)
bergamot, orange, lime (uplifting, summery)
rosemary, thyme, lemon (freshness)
geranium, ylang-ylang, lavender (flowery)
Instructions
It's very easy, trust me! Decide which oils you want to use, and then, let's get cracking!
First, check the consistency of your shea butter. Is it soft enough, like soft butter, or is it rock solid? If it's still too firm and there's no way you could stir it, then you need to melt or soften the shea butter first. In the microwave or a double-boiler.
Then, you add the other ingredients. I usually start with combining the oils/fats which means mixing shea butter with oil and the essential oils until they're well combined.
At last, you add the tapioca and bicarb/baking soda to form a paste or a cream, that is. Store the deo in a small container.
If you prefer a deo stick (twist-up tube, like these), you'll either need to add wax (bees or soy, if vegan) to make this homemade deodorant with shea butter more solid, or keep it in the fridge at all times!
Does this homemade deodorant with shea butter really work?
This depends on you. On how much you sweat. On how many toxins you sweat out. On how many odour causing bacteria live on the skin under your arms. On what materials your clothes are made from. Etc., etc.
So, all you can do is try and see. Homemade deodorants always involve a bit of trial and error. That's just how it generally is, unfortunately.
I've tried this recipe many times and it always works for me—never ever let me down once! And trust me, I'm able to really test it because where I live, up in Northwest Queensland, Australia, our temperatures reach well over 40°C/104°F.
But it may only work for me because,
I've detoxed—meaning I've stopped using commercial deodorants for some time now
I don't sweat a lot (I reckon, just "normal" amounts)
I'm generally healthy and I eat healthy—meaning less toxins to be flushed out of my system
I wear clothes made from cotton or other breathable materials
Substitutions
Shea butter: any other butter will work too, like mango or olive butter
Oils: I prefer using sweet almond or apricot kernel oil because of the vitamin E content but you may like to choose coconut oil because it's also antibacterial (just keep in mind that it solidifies in cooler temperatures, making your deodorant firmer)!
Tapioca/arrowroot powder: potato or corn starch works as well to absorb the moisture. Another ingredient that additionally draws out toxins is bentonite clay.
Bicarb/baking soda: try my recipe first because it's got a lower amount of bicarb than other homemade deodorant recipes you can find on the web. It might just work out for you as it did for me.
If you still react to it, don't use this recipe. I'm currently working on a good recipe for sensitive skin that doesn't include bicarb soda. In the meantime: great substitutes are bentonite clay or diatomaceous earth, but use them like the tapioca starch, amount-wise (and use less tapioca)!
Storage
I store my deodorant in a small glass container. I've got quite the collection of small jam jars or glass containers which I like to reuse. A plastic or aluminium container works as well.
You may also use a deodorant tube twist-up container (you can reuse your old one! Or buy them new, empty here), however, you'll have to keep your homemade deodorant with shea butter in the fridge at all times. Or add beeswax (or soy wax, if you're vegan).
I store my deo in the fridge because it becomes liquid in my cupboard (I live in northern Australia where it's hot most of the year). You'll probably be alright storing it at room temperature in your bathroom cupboard though.
Warnings & Safety
Stop using this deodorant immediately if any skin irritation occurs. You might react to the bicarb/baking soda in it (in some rare cases, tapioca or the essential oils can cause it too).
If this deodorant is your first go at a homemade deodorant, or if you've never used a natural deodorant before, allow your body some time to detox first (which means, this deo may not work, at first)! This may take a few weeks up to a few months.
📖 Recipe
Homemade Deodorant with Shea Butter
Ingredients
2

tablespoon

shea butter

preferably raw, unrefined

1

tablespoon

oil

sweet almond, coconut oil, etc.

40

drops

essential oil(s)

see notes for ideas

2

tablespoon

tapioca starch

or arrowroot powder

1

teaspoon

bicarb/baking soda

use more if needed & tolerated, see notes
Instructions
If your shea butter isn't soft enough, you may need to melt it first. You can easily do this in the microwave for a few seconds or a double-boiler over the stovetop.

Combine shea butter, oil and essential oil(s) until you achieve a nice, creamy texture.

Add tapioca and bicarb soda to form a paste. If the deodorant seems a bit too soft or runny, place it in the fridge for a couple of hours to harden again.

Store deodorant in a small 60ml/2oz container in your bathroom cupboard or in the fridge, if you prefer.
Notes
oil: I prefer using sweet almond or apricot kernel oil because of its high vitamin E content. But coconut oil is a great choice too
Bicarb/baking soda: I reckon 1tsp is enough for this deodorant to work, but if you know you need more (and are able to tolerate it), add more!
Essential oil combinations:
lavender, clary sage, cedarwood (balancing, soothing, grounding)
bergamot, orange, lime (uplifting, summery)
rosemary, thyme, lemon (freshness)
geranium, ylang-ylang, lavender (flowery)
Resources