This homemade turmeric toothpaste is not only remineralising your teeth, it's whitening them at the same time! The secret? Turmeric.
Yeah, I know, turmeric stains everything yellow. But trust me, it actually whitens your teeth! No need to use harsh chemicals to bring your teeth back to their original white—it's all 100% natural!
Contents
Making your own whitening toothpaste is super easy and you don't even need that many ingredients!! There are even people who brush their teeth with coconut or olive oil only, successfully!
Affiliate Disclaimer: This article contains affiliate links. That means I may earn a small commission, if you purchase the linked product, at no extra cost for you.
Bentonite clay, coconut oil and peppermint essential oil (affiliate links) are my favourite ingredients. But ever since I heard about turmeric and its benefits, I always add a teaspoon of organic turmeric powder (affiliate link) to my toothpaste!
In case you've never made your own toothpaste before or if you want to know more about it, check out this article about homemade toothpaste. It includes everything that you need to know and a complete list of ingredients (and their benefits) that you can use in your own DIY toothpaste, or for oral care in general.
What's in this turmeric toothpaste?
The Ingredients that I use in this recipe are:
Bentonite clay
Coconut oil
Turmeric
Essential oils (optional)
There are a few different recipes on how to make turmeric toothpaste. Some like it as simple as plain coconut oil and turmeric, and maybe even some bicarb/baking soda.
I'm personally not a big fan of bicarb soda because I think it's too abrasive and it might even attack the enamel.
I prefer using bentonite clay instead for the right, paste-like consistency. It just makes it easier to apply to your toothbrush than runny oil.
Another reason why I love using bentonite clay is that it's also rich in minerals (particularly in calcium which is very important for our teeth) and has the ability to remove toxins and metals at the same time.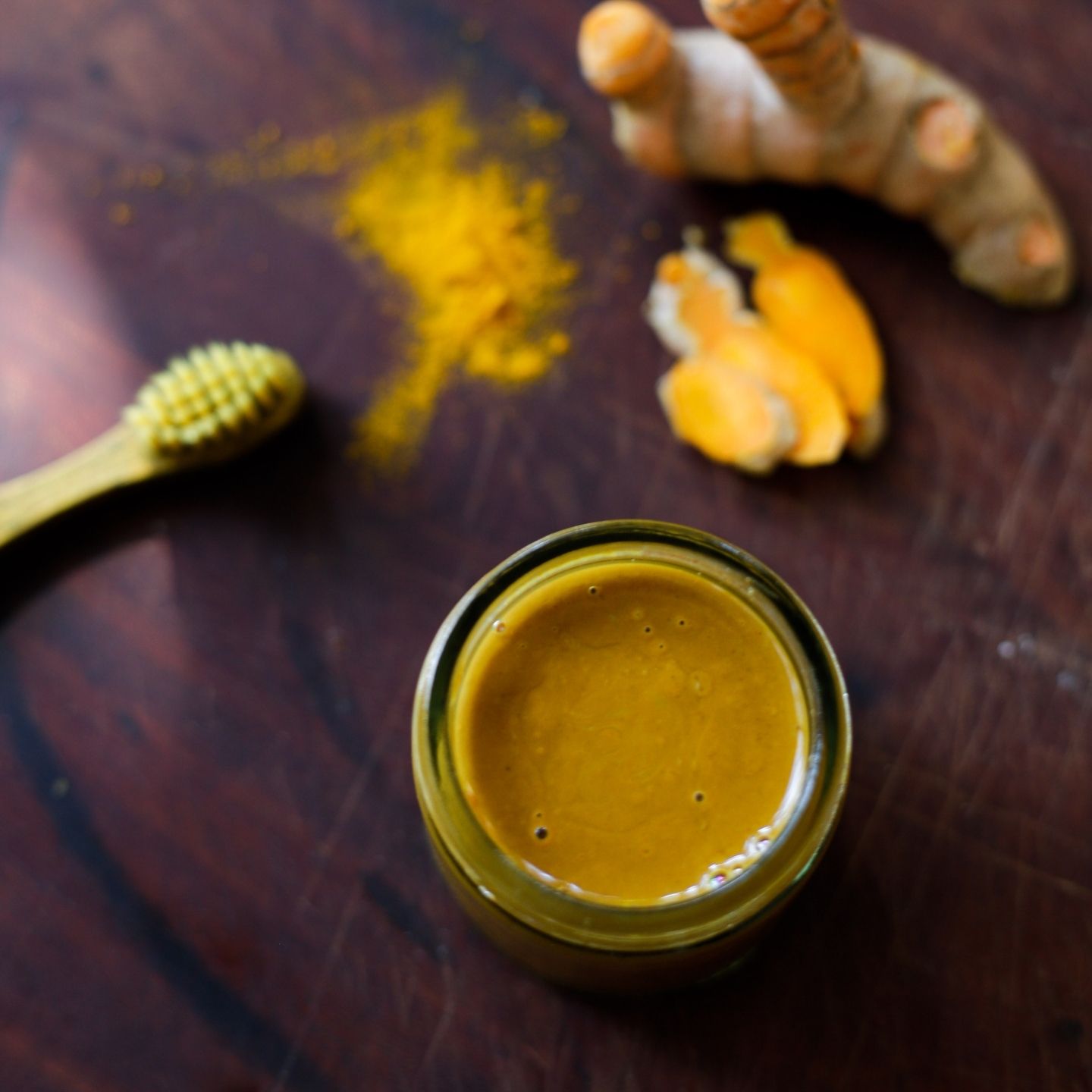 Bentonite Clay
rich in minerals like calcium, magnesium, silica, sodium, copper, iron and potassium
remineralises your teeth
cleansing and detoxing properties
binds toxins and metals
Bentonite clay (affiliate link) is formed from volcanic ashes and can be found in rivers as well as along the coastlines. Depending on its origin and how it has been formed, it composes of different amounts of nutrients—but it's always rich in minerals, no matter what.
Generally, we divide between sodium and calcium bentonite clay. For your toothpaste, it might be a good idea to look out for the calcium version as it's the most important mineral for our teeth.
The benefits
Bentonite clay is rich in minerals like Calcium, Magnesium, Silica, Sodium, Copper, Iron and Potassium which will help our teeth to remineralise.
Remineralisation simply means that we strengthen our teeth by reducing or eliminating bad bacteria or other harmful baddies floating around our mouth and provide the teeth with essential minerals to rebuild enamel.
Because of its electromagnetic ionic charge (normally negatively), bentonite clay also has cleansing and detoxifying properties. Its power is "activated" by adding water (or saliva). The clay then acts like a sponge or a magnet absorbing everything that is harmful (like metals and toxins).
Once absorbed, they are bound to the clay. So, always, spit out your toothpaste! Don't swallow it!
Where to get bentonite clay from
You can buy it online (affiliate link). Or in Australia and New Zealand for example, you often find it in bulk shops as well as in health food shops.
I know in Europe, it's not that easily accessible. Online might be your only way to get it. If you can't find it at all, you might want to check out these alternatives below.
Alternatives for bentonite clay in your turmeric toothpaste
(affiliate links)
Coconut Oil
anti-microbial
anti-bacterial
prevents plaque and may even reduce it
has tooth whitening properties
may reduce tooth decay and signs of gum disease
Coconut oil (affiliate link) is my favourite oil to use in any homemade toothpaste. It has many benefits and is scientifically proven to be particularly helpful for oral care.
The only (maybe) annoying thing about coconut oil is that it liquefies at 24°C/76°F (and solidifies below this temperature). This can be quite a pain when you want to make this turmeric toothpaste for a tube.
Alternatively, you can use fractionated coconut oil (affiliate link) which stays liquid at all times. Apparently, there's no difference when it comes to the benefits (but there's a difference in price…).
The benefits
Coconut oil can do so much for us: it reduces harmful bacteria and plaque buildup, fights gingivitis and is able to prevent tooth decay.
The medium-chain fatty acids in coconut oil are anti-microbial which means they are able to attack harmful bacteria and other micro-organisms and blocking them to grow and expand! It's even said that coconut oil is able to reverse tooth decay and signs of gum disease.
There are studies that have shown that coconut oil reduces plaque and even prevents new buildup.
Alternatives for coconut oil to use in your turmeric toothpaste
Turmeric Powder
teeth whitening properties
anti-inflammatory
anti-microbial
has a distinct/strong taste
Turmeric, as we stated in the beginning, stains everything yellow, right? But for some reason, it has the opposite effect on our teeth. It actually whitens them—completely naturally, no chemicals needed!
There are no studies that could prove this fact right. It's rather anecdotally known. In my experience, adding turmeric to my toothpaste does have a whitening effect!
Now, my teeth aren't really yellow but not bright white either. So, when I was using turmeric for some time, I noticed my teeth turning a shade whiter. And also, when I stopped using it, I noticed that my teeth turned slightly more "yellow" again.
Nevertheless, turmeric is a great ingredient for your toothpaste anyway! Because besides its whitening effect, it's anti-inflammatory and anti-microbial as well!
For best and cleanest/healthiest results, I recommend using organic turmeric powder (affiliate link). Conventional turmeric powder might still have some chemical residue.
Alternatives for whitening your teeth
I reckon that turmeric has that effect on some teeth and on others it simply doesn't. If it turns out that it doesn't work for you, you might want to try activated charcoal for a whitening treatment.
Essential Oils
100% natural (preferably using high quality (maybe even therapeutic grade) oils)
promote fresh breath (peppermint and clove in particular)
anti-bacterial
anti-microbial
anti-inflammatory
Essential oils aren't necessary for this turmeric toothpaste recipe but they'll add a lot of value and taste to it.
Depending on what you're looking for, you can choose an oil that additionally cleanses, soothes and/or fights bad breath. Since they are highly concentrated, you only need a few drops and should always dilute them with a carrier oil (in this recipe, it's the coconut oil—or your alternative).
Great oils to use in your turmeric toothpaste: peppermint, spearmint, lime, lemon, cinnamon and clove (affiliate links).
I love using cinnamon and clove in combination with turmeric—it's kinda like a golden chai taste whenever I brush my teeth.
If you choose these 2 oils just make sure you're only using a few drops! Cinnamon and clove are considered strong oils. For this recipe, 3 drops each should be plenty. Just try it out for yourself and how much you can take.
📖 Recipe
Equipment
Preferably, don't use any metal utensils because of bentonite clay's absorptive properties. Wood, plastic or glass bowl and spoon are better.
Ingredients
4

tablespoon

bentonite clay

food grade

3

tablespoon

coconut oil

melted

1-2

teaspoon

turmeric powder

10-20

drops

essential oils

see notes
Instructions
If your coconut oil isn't liquid already, melt it in the microwave or over the stove top.

In a bowl (wood, plastic or glass) mix bentonite clay and turmeric with a spoon or spatula (also, wood, plastic, glass or silicone).

Now add liquid coconut oil. If using essential oils (see notes) add your preferred amount of drops to one of the tablespoons of oil before mixing it in.

Mix until everything is well incorporated and no lumps are left. If the toothpaste seems too crumbly, add more oil. If too runny, add more clay.

Store in a 60ml / 2oz container. A little glass jar works best, I find.
Notes
Food grade:
it's fairly important to use a fine grade (food instead of cosmetic grade). Otherwise, your paste will rather feel like sand (and that's not ideal, is it?)
essential oils:
I usually go with 20 drops for peppermint, lemon or lime. Clove and cinnamon are strong oils and you might only want to use 5 to 10 drops max.

Little warning
. As I said, turmeric stains everything. So when you brush your teeth with it, be careful not to drop it on your clothes. It
may
stain them (yup, happened to me, but fortunately, it came out).