Mouthwashes are a great way to quickly freshen your breath, improve dental health, treat inflammations, and fight cavities.
This DIY natural mouthwash is easy to make and assembled in less than 5 minutes!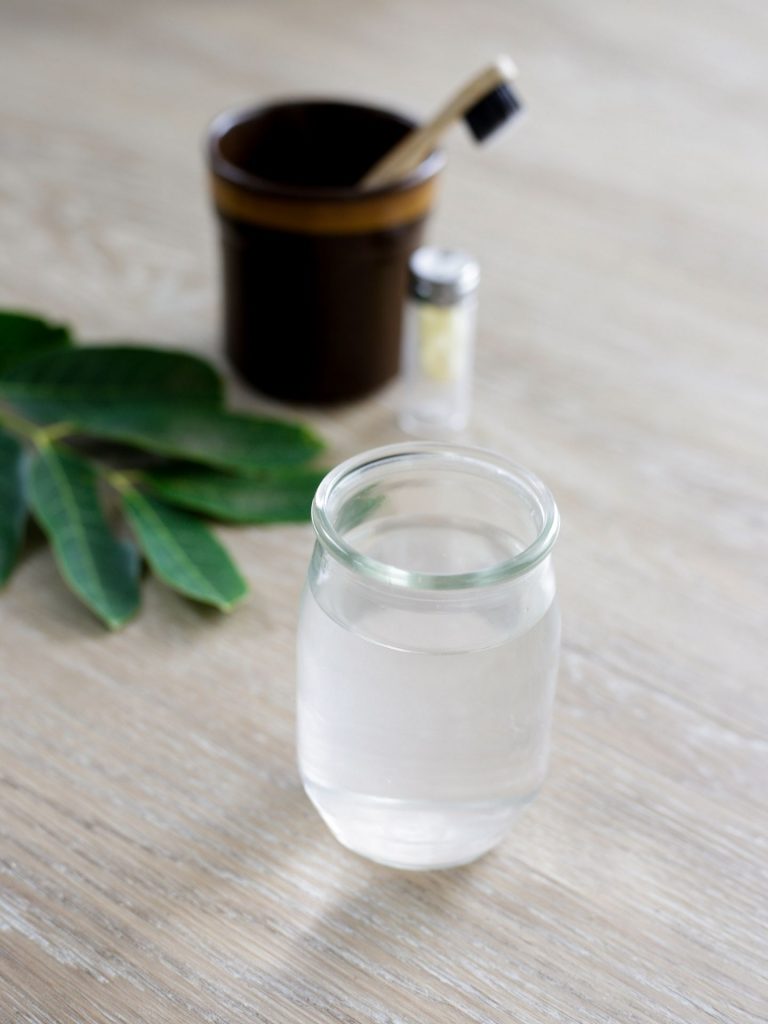 This recipe is 100% natural and does not use any harmful chemicals or other nasties (preservatives, fluoride, alcohol or artificial flavours) like commercial ones.
Also, making your own saves a lot of plastic, too. Better for you, better for the environment!
Contents
How does this DIY natural mouthwash work
We brush our teeth to remove food, bacteria and plaque from the surface, we floss to get in between our teeth and then we gargle and swish around a mouthwash.
But how does it work? What does mouthwash really do? Do we need it at all?
Well, I don't think you really need it, BUT it's still very beneficial. Especially, if you're trying to reduce (or reverse) cavities the natural way. If your toothpaste isn't strong enough to help you with bad breath. Or if you want to treat inflammation between your teeth where you simply can't reach!
This natural mouthwash:
is antibacterial to kill harmful bacteria that are responsible for bad breath and contribute to tooth decay
alkalises your mouth to prevent acid-forming bacteria to destroy your teeth (cavities and gingivitis)
soothes dental pain
freshens your breath
Sounds great, doesn't it? And yup, no alcohol or chemicals are needed for this mouth rinse! All you need are these excellent, all-natural ingredients:
Ingredients
filtered water
salt
essential oils (plus carrier oil)
xylitol (optional)
other optional ingredients: baking soda and activated charcoal
Salt
Salt has been used in traditional medicine as a natural anti-inflammatory for years! For oral care and hygiene, saltwater is known to be an antibacterial home remedy for toothache.
Whenever you have a sore tooth or gums, swishing salt water through your teeth soothes, prevents swelling and cleanses them gently.
Another great reason why we want to add salt to our natural mouthwash is that it's also contributing to fighting cavities. Saltwater will, for a short time, increase the pH balance of your mouth which creates an alkaline environment.
This makes it difficult for bacteria to breed and they might not survive in this particular environment. I like to use this mouth rinse right before I go to bed, so harmful bacteria can't attack my teeth when I'm sleeping.
Essential Oils
Essential oils are an excellent choice for oral hygiene as they inhabit cleansing and soothing properties! They can also fight bad breath and harmful bacteria in our mouths.
As they are highly concentrated, you only need a few drops to benefit from them. I think 8 drops should not be exceeded in this recipe!
There are quite a few different essential oils you can use for oral health (you can learn more about it in my homemade toothpaste ingredients guide).
Affiliate Disclaimer: This article contains affiliate links. That means I may earn a small commission, if you purchase the linked product, at no extra cost for you.
However, as we are using a mouthwash for freshening our breath as well, adding peppermint or clove essential oil is a good idea. If you're also looking for soothing bleeding or sore gums, tea tree oil will be very helpful.
Always make sure you're using a carrier oil! While some oils like tea tree and peppermint don't necessarily need it, strong oils like clove absolutely need to be diluted!
That's why I always add at least ½ teaspoon olive oil to my homemade mouthwash. I do that even when I'm using peppermint only (just to be on the safe side).
Peppermint Oil
Peppermint as well as spearmint oil fight bad breath and refresh it with their cool, minty taste. To keep your breath fresh throughout the day, you can also place a drop (or less) of peppermint oil on your finger and press it against your palate.
Peppermint essential oil is also known to reduce harmful bacteria in our mouth and to soothe inflammations due to its anti-microbial and anti-bacterial properties.
If peppermint oil seems too strong for you, you might want to try out spearmint since it's milder and sweeter (a great alternative for kids as well).
Clove Oil
Clove oil, just like peppermint oil, also helps with bad breath, it's anti-bacterial and anti-inflammatory. It's a very strong oil and I do not recommend using 8 drops of it. Start with 3 and see if it's enough for you. I took 5 in mine once and that was already quite intense!
Tea Tree Oil
Personally, I don't like to take tea tree for anything concerning oral care or oral hygiene, but it did help me once when I had sore gums.
Tea tree oil is anti-bacterial and anti-inflammatory and disinfects almost instantly. It is, therefore, quite a strong oil and at times very intense.
If you do like to use it, start with only a few drops, like 3-4, and see how that works for you. Of course, you can blend it with other oils as well, if you like. It might help with the rather strong taste too.
Xylitol
Xylitol is a natural, sugar-free sweetener that, although it's sweet, actually doesn't cause cavities but reverses them! It has the ability to stop these bacteria to grow and multiply in our mouth.
When used often, the number of decay-causing bacteria reduces fewer plaque forms, thus fewer cavities.
If you are treating cavities or want to reverse them, xylitol is a very helpful ingredient. It is said that it doesn't matter how much you're using, rather how many times you're using xylitol throughout the day. Some experts recommend treating your teeth 4-6 times per day with xylitol.
You can easily accomplish it by adding xylitol to your homemade toothpaste (read more about homemade toothpaste here). You're brushing your teeth twice a day, probably.
Simply follow it up with this natural mouthwash and you're already doing it 4 times. Use it again after lunch and you're up to 5! You could even chew some gum that contains xylitol, too!
Other ingredients for a natural mouthwash
Bicarb/baking soda
In this recipe, you could also use ½ teaspoon to 1 teaspoon bicarb soda. However, I want you to know that there is a little bit of a controversy. Some people say it cleanses well and gets rid of plaque and food on your teeth. If you like to go with it, sure thing. Go ahead, I'm not stopping you!
I don't like to use bicarb/baking soda in any of my toothpastes, nor in my mouthwash, because I think it is far too abrasive for my teeth and gums.
If you use the wrong proportions, it can attack your enamel as well which might lead to tooth decay. So, I'm just a bit careful.
Activated Charcoal
Activated charcoal detoxes due to its electromagnetic ionic charge. It has the ability to cleanse and get rid of any harmful bacteria, metals or toxins.
Used in this homemade mouthwash, the ions in activated charcoal act like a magnet and absorb and bind everything "bad" (like metals and toxins) in your mouth.
Add about ½ teaspoon to your mouthwash.
Instructions
It's easy! Simply add all the ingredients (filtered water, salt, xylitol, a bit of oil and a few drops of essential oils) to a clean container, a glass or a mason jar with a lid. Screw the lid on top and give it a good shake until all of the salt dissolves.
Store it in your bathroom cupboard or on a shelf that is not exposed to sunlight. It keeps forever!
Use it twice a day, once a day, or whenever you feel like it! A sip should be enough. Swish it through your teeth for about 30 seconds, gargle and spit it out. That's it!
📖 Recipe
Homemade Natural Mouthwash
Ingredients
250 ml /

1 cup

water

preferably filtered

½

teaspoon

fine salt

rock or sea salt

½

teaspoon

olive oil

or other carrier oil of choice

max. 8

drops

essential oils

peppermint, clove, tea tree

1

tablespoon

xylitol

optional
Instructions
Add all ingredients to a container, glass or mason jar (with lid) and shake well. Done.

How to use it: shake well before every use. Take a small sip and swish and gargle for about 30 seconds. Spit it out. DON'T swallow it!
Notes
Don't use coconut oil in this recipe unless it's fractionated. The oil needs to be liquid at all times.
I love using 5 drops peppermint and 3 drops clove essential oils.
If using clove essential oil only, 3-5 drops are plenty! It's a very strong oil!
Resources