Use the power of India's Miracle Tree! Remineralise, protect, heal and clean your teeth and gums with this homemade moringa toothpaste!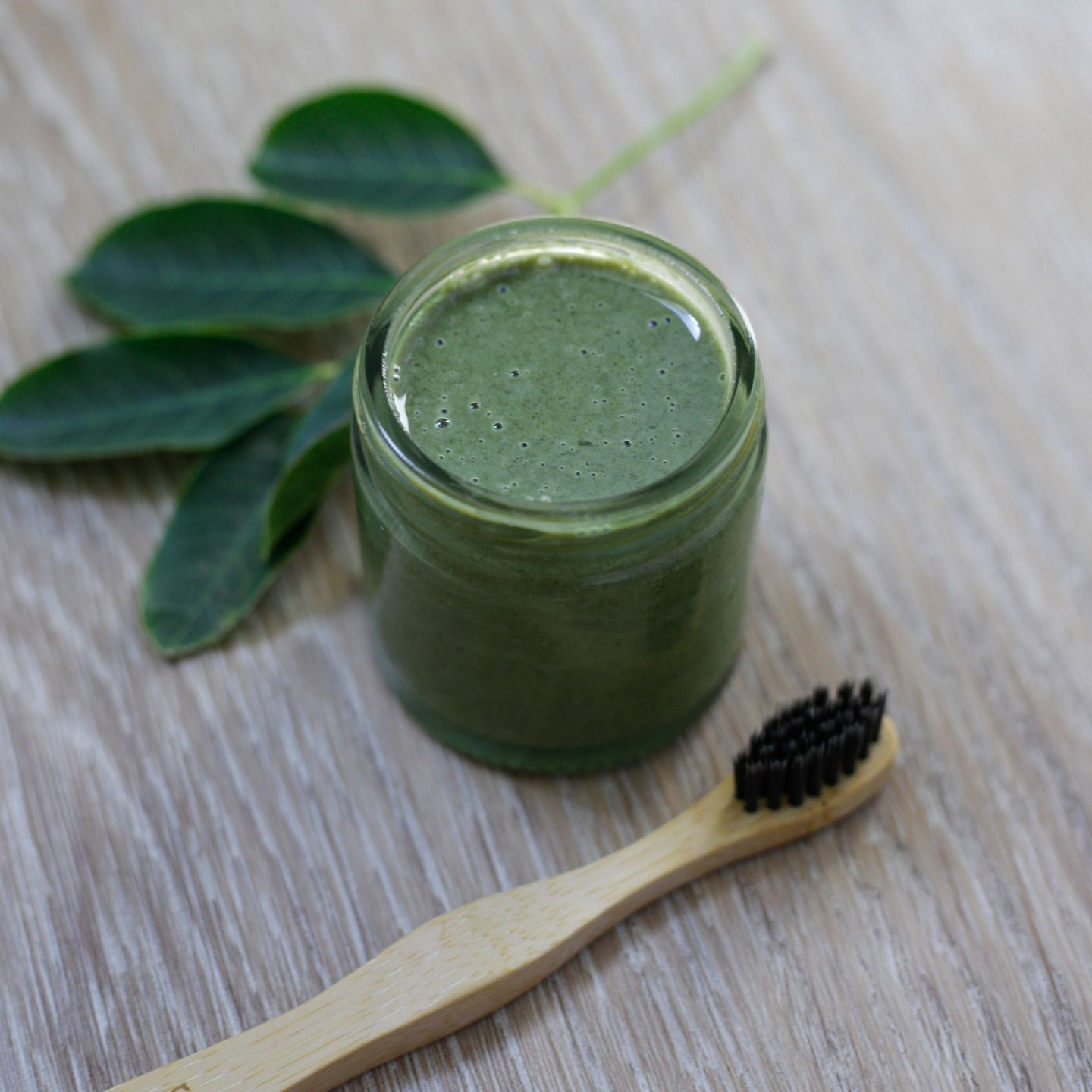 Moringa is loaded with vitamins and minerals, has antibacterial, antimicrobial, anti-inflammatory, detoxifying, antioxidant and cell-protecting properties... Which make it perfect for those of you who also want to heal and soothe inflamed gums!
Contents
Making your own toothpaste is insanely easy and you don't even need many ingredients! Just sweet, easy and of course always natural!
I prefer making my homemade toothpaste with a bentonite clay, coconut oil, and peppermint essential oil base (most of my recipes have this base). But don't feel like you need to!
You can always swap these ingredients with bicarb/baking soda, calcium carbonate, activated charcoal, olive oil, etc. (I provide a comprehensive list of ingredients that you can use for your toothpaste in this guide).
Affiliate Disclaimer: This article contains affiliate links. That means I may earn a small commission, if you purchase the linked product, at no extra cost for you.
Actually, in this recipe, I am using French green clay (food grade or extra fine) instead of bentonite clay because I thought: for this recipe, I go green! 😉
In case you've never made your own toothpaste before or if you want to know more about it, check out this article about homemade toothpaste. It includes everything that you need to know and a complete list of ingredients (and their benefits) that you can use in your own DIY toothpaste, or for oral care in general.
What's in this moringa toothpaste?
The Ingredients (affiliate links) that I use in this recipe are:
Essential oils (optional)
Xylitol (optional, to neutralise the rather bitter taste of moringa)
Of course, as mentioned earlier, you're welcome to use different ingredients instead and swap some to make it yours!
I'm personally not a big fan of bicarb/baking soda because I think it's too aggressive and abrasive (just think about what it does to your baked goods or when you mix it with vinegar).
I prefer using clay (or calcium carbonate) to create a paste-like consistency. It's very important to always make sure they are food grade or ultra/extra/super fine to avoid any abrasion and causing damage to your enamel.
Another reason why I love using clay is that it's also loaded with essential minerals (particularly calcium which is very important for our teeth) and has detoxing, cleansing and antibacterial properties.
However, as we are also using moringa in this recipe, you get all these great benefits with it already. So you might wanna replace the clay with something else if you prefer.
French Green Clay
rich in minerals like calcium, magnesium, silica, sodium, copper, iron and potassium
remineralises your teeth
cleansing and detoxing properties
binds toxins and metals
antibacterial and antimicrobial properties
French Green clay, also known as illite clay, has its origins in southern France, hence the name. Water plants like kelp, seaweed and algae as well as iron are the reason for its unique green colour and probably also for its high mineral content.
For many years, France enjoyed a monopoly on the production of green clay until it was uncovered in some parts of the US as well (so if you live in the States, I recommend buying a US product).
The Benefits of French Green Clay
French Green clay is rich in minerals like magnesium, calcium, potassium, manganese, phosphorus, zinc, etc. which will help remineralise our teeth.
Remineralisation just means that we strengthen our teeth by fighting harmful bacteria and provide the teeth with essential minerals (especially calcium) to rebuild enamel.
French green clay also has cleansing (antibacterial and anti-microbial) and detoxifying properties. You could envision the clay acting like a magnet or a sponge absorbing everything that is harmful (like metals and toxins) because once absorbed, these baddies are bound to the clay.
So, this also means: always, spit out your toothpaste! Don't swallow it!
Alternatives for French green clay in this moringa toothpaste
Bentonite clay (food grade or super fine)
OR calcium carbonate in combination with activated charcoal
Coconut Oil
anti-microbial
anti-bacterial
prevents plaque and may even reduce it
has tooth whitening properties
may reduce tooth decay and signs of gum disease
Coconut oil is my favourite oil to use for oral care and health. It has so many benefits and is scientifically proven to be exceptionally helpful for fighting different oral diseases.
You need to be aware of the fact though that coconut oil liquefies at 24°C/76°F (and solidifies below this temperature). This isn't necessarily a problem but if you want to make this moringa toothpaste for a tube, you might wanna avoid it.
A great alternative is simply using fractionated coconut oil. It always stays liquid, not matter if it's cold or hot.
The benefits
Coconut oil is extremely beneficial in homemade toothpastes: it reduces harmful bacteria and plaque buildup, fights gingivitis and may even prevent tooth decay.
The medium-chain fatty acids in coconut oil are anti-microbial which means they get rid of harmful bacteria and other micro-organisms and make it impossible for them to grow and multiply! It's even said that coconut oil is able to reverse tooth decay and signs of gum disease.
There are studies that have shown that coconut oil reduces plaque and even prevents new buildup.
Alternatives for coconut oil to use in your moringa toothpaste
fractionated coconut, if you need a liquid oil
olive oil
sesame oil (has a strong taste though)
Moringa Powder
also known as miracle tree, drumstick tree, ben oil tree or horseradish tree
rich in proteins, vitamins and minerals, particularly calcium and iron
detoxifying, antioxidant and cell-protecting properties
antibacterial
anti-inflammatory
anti-microbial
has quite a distinct taste
Moringa, India's miracle tree, is probably not well known as an ingredient for toothpaste. But as you can see, it's so beneficial for our oral hygiene and can support our overall oral health.
Moringa has been used for centuries as a remedy to treat, cure and/or prevent all kinds of diseases. It's antifungal, antiviral, antidepressant, antibacterial, antimicrobial and anti-inflammatory.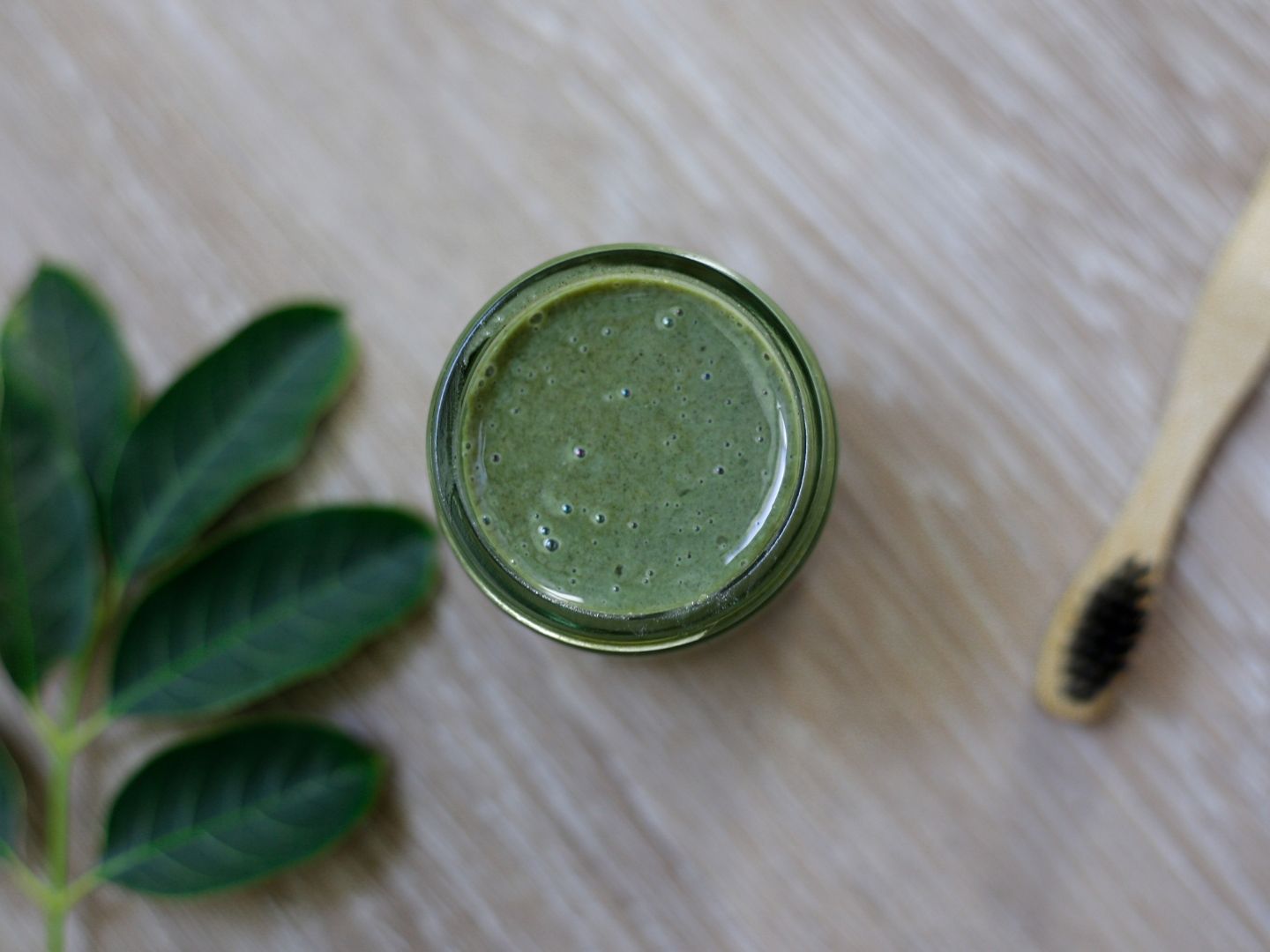 Moringa is fairly high in calcium which is needed to rebuild and strengthen the enamel. So, it can help us remineralise our teeth just like clay does as well.
Now, moringa has quite a distinct, almost bitter, taste. You need to like it... I'm not the biggest fan of its taste but I find in combination with xylitol, it's not too bad.
It seems to neutralise the rather bitter taste. Another ingredient you can add to make your toothpaste taste better are essential oils.
Essential Oils
100% natural (preferably using high quality (therapeutic grade) oils)
promote fresh breath (peppermint and clove in particular)
anti-bacterial
anti-microbial
anti-inflammatory
Essential oils, although not necessary, will add a lot of value and taste to your moringa toothpaste.
Depending on what you want your toothpaste to "do" (soothe little inflammations, fight bad breath, cleanse, etc.), you can choose an oil accordingly.
As essential oils are highly concentrated, you only need a few drops and should always dilute them with a carrier oil (in this recipe, it's coconut oil—or your alternative).
For this moringa toothpaste, I said I wanted to go green, right? So, I used cilantro and lime essential oils which not only cleanse my teeth, they also neutralise the bitter moringa taste!
I love using a peppermint and lemon essential oil combination in this recipe as well. Cinnamon and clove might not be the greatest tasting choice for this toothpaste. I'd rather go for zesty than spicy.
Xylitol
helps fight cavities and tooth decay
may even reverse cavities
a natural, sugar-free sweetener
Xylitol is a sugar-free sweetener derived from birch trees. It's sweet, but as it doesn't contain any sugar, it won't damage your teeth. Actually, it does the opposite—it does not cause cavities but reduces them!
It has the ability to prevent harmful bacteria to grow and expand. Used over some time, the number of decay-causing bacteria even reduces to the extend that less plaque forms, thus less cavities.
So, not only does it sweeten your moringa toothpaste and neutralises the bitter taste, it also promotes healthy teeth and gums!
📖 Recipe
Moringa Toothpaste
Equipment
Preferably, don't use any metal utensils because of the clay's absorptive properties. Wood, plastic or glass bowl and spoon are better.
Instructions
If your coconut oil isn't liquid, melt it in the microwave or over the stove top.

In a bowl (wood, plastic or glass) mix French green clay, moringa and xylitol (if using) with a spoon or spatula (also, wood, plastic, glass or silicone).

Now add liquid coconut oil. If using essential oils (see notes) add your preferred amount of drops to one of the tablespoons of oil before mixing it in.

Mix until everything is well incorporated and no lumps are left. If the toothpaste seems too crumbly, add more oil. If too runny, add more clay.

Store in a 60ml / 2oz container. A little glass jar works best.
Notes
French Clay:

it's fairly important to use a superfine grade. Otherwise, your paste will rather feel like sand

and might cause damage to your enamel.

Xylitol: is optional but will help with the bitter taste of moringa. 

Essential oils:

I usually

use 16

drops

in total. My favourite combinations for this toothpaste are lemon and peppermint or cilantro and lime.
Resources