Whiten your teeth the natural way without harsh chemicals or going to the dentist. This homemade charcoal toothpaste may be black but funnily, it'll make your teeth white(r)!
And not only that, it also remineralises, fights harmful bacteria causing tooth decay and prevents plaque to build up on your teeth. Yup, with 100% natural ingredients!
When I make my own toothpaste, I usually keep it very basic. Just bentonite clay, coconut oil, and essential oils. But every now and then I love adding some extras (find my complete toothpaste ingredients list here)!
In this recipe, we're adding activated charcoal which is said to whiten our teeth over time. Charcoal has strong cleansing properties and will help you fight and prevent decay.
What's in this homemade charcoal toothpaste?
Affiliate Disclaimer: This article contains affiliate links. That means I may earn a small commission, if you purchase the linked product, at no extra cost for you.
The ingredients that I use in this recipe are:
Activated Charcoal
has cleansing and detoxing properties
binds toxins and metals
may whiten teeth
As activated charcoal is a natural ingredient it will take around 4 weeks until you see some results. And even after this period of time, you might not see any difference.
I'm not 100% sure why it is that activated charcoal works for some people and for some it just doesn't. A reason for that could be that it depends on the cause for the discolouration.
Like smoking, drinking coffee, your diet, your natural tooth colour, maybe even the mineral content or composition, etc.
I simply recommend: try it out and see how it goes for you! Personally, I find turmeric works better for my teeth but after having used charcoal in my homemade toothpaste for months now, I finally see a difference.
Is activated charcoal good for your teeth?
Activated charcoal has the ability to absorb toxins and metals thus to detox and cleanse your mouth. This will help to fight and prevent cavities.
Also, as mentioned earlier, it is known to have a whitening effect. It gently removes plaque and other buildups on your teeth over time which usually cause discolouration.
However, keep in mind that some people naturally have yellower teeth no matter how clean they are. These people may not experience the whitening effect.
How to use activated charcoal in DIY toothpaste?
You always use it in combination with clay or calcium carbonate because you really don't need a lot of it. Usually, it's around a half to one teaspoon per batch.
So, I like to use half a teaspoon of charcoal per 4 tablespoons of clay (or calcium carbonate).
You can't use it just on its own!! It's an active ingredient and has to be used in minimal quantities!
A word of caution
Talking about staining… Yes, unfortunately, there's a downside to using charcoal in your DIY toothpaste: it stains and it's messy!
You have to be careful not to spill while brushing your teeth otherwise, you need to change your shirt. But don't freak out when this happens, you should be able to wash it out.
This toothpaste may also stain your toothbrush and towels (if you use them to wipe your mouth afterwards). And you might feel like you need to clean your sink more thoroughly, too.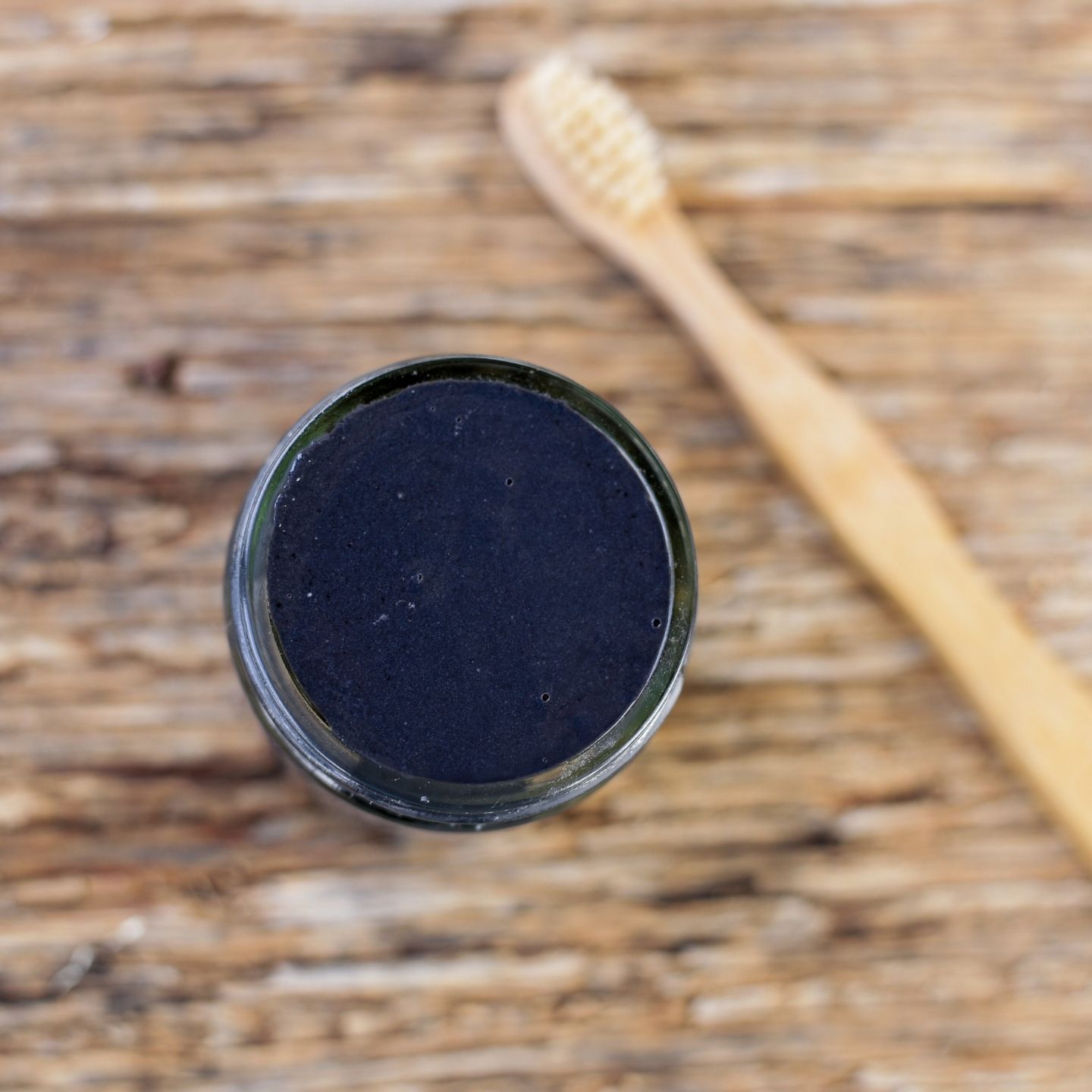 Bentonite Clay
rich in minerals like calcium, magnesium, silica, sodium, copper, iron and potassium
remineralises your teeth
cleansing and detoxing properties
binds toxins and metals
antibacterial and antimicrobial properties
I find bentonite clay to be the best clay for my toothpaste. In Europe, you may find that French Green Clay is much more accessible and cheaper than bentonite.
Both are rich in minerals like magnesium, calcium, potassium, manganese, phosphorus, zinc, etc. which will help remineralise our teeth.
Remineralisation simply means that we strengthen our teeth by fighting harmful bacteria and providing the teeth with essential minerals (especially calcium) to rebuild enamel.
The great thing about clay is that is cleanses (antibacterial and anti-microbial properties) and detoxifies our mouth. I like to imagine that clay acts like a sponge that absorbs all the toxins in your mouth. Once they are absorbed, they'll stay bound to the clay.
These properties make clay the perfect ingredient to fight cavity-causing bacteria and to get rid of all the other baddies which are often hiding on or between our teeth.
Which clay to use in this charcoal toothpaste
Coconut Oil
anti-microbial
anti-bacterial
prevents plaque and may even reduce it
has tooth whitening properties
may reduce tooth decay and signs of gum disease
I use coconut oil for all of my toothpaste because it has numerous benefits and it's also scientifically proven to be exceptionally helpful for fighting different oral diseases.
The only thing you should keep in mind though is that coconut oil liquefies at 24°C/76°F (and solidifies below this temperature).
Generally, this isn't a problem however, if you're planning on making this charcoal toothpaste for a tube you may want to check out fractionated coconut oil. It remains liquid, whether it's cold or hot.
The benefits
Coconut oil eliminates (or lowers the number of) harmful bacteria and plaque buildup, fights gingivitis, and may even prevent tooth decay.
The reason for this can be found in the medium-chain fatty acids in coconut oil (lauric acid) which are anti-microbial. They remove harmful bacteria and other micro-organisms and as a slight residue of coconut oil always remains, they make it impossible for those baddies to grow and multiply!
There are many studies on how coconut oil affects our oral health and they found that coconut oil reduces plaque, prevents new buildup and may even help to reverse tooth decay.
Alternatives for coconut oil to use in your charcoal toothpaste
Essential Oils
100% natural (preferably using high quality (therapeutic grade) oils)
promote fresh breath (peppermint and clove in particular)
anti-bacterial
anti-microbial
anti-inflammatory
Essential oils are always a good idea to incorporate into your oral hygiene routine. They soothe little inflammations, fight bad breath, cleanse, etc. (depending on what oils you want to use).
It's important to know that you always need to dilute essential oils wit a carrier oil as they are highly concentrated (in this recipe, it's coconut oil—or your alternative). Some oils are stronger (cinnamon, clove) than others and you'll notice that you won't need many drops (rather 5-10 than 20)!
For my charcoal toothpaste, I often just use peppermint essential oil (20 drops max) or a combination of cinnamon and clove (4 drops each). But of course, they are more oils that you can use (you can find a whole list of them in my homemade toothpaste guide).
Xylitol
helps fight cavities and tooth decay
may even reverse cavities
a natural, sugar-free sweetener
Xylitol is not necessary for your DIY charcoal toothpaste but it's a great ingredient to use when you also want to fight cavities! Although it's sweet, it's not actually sugar!
So, yes, it won't damage your teeth! In fact, it actually does the opposite—it does not cause tooth decay but reverses it!
Studies have shown that xylitol prevents harmful bacteria to grow and expand. And, when used for some time, it slowly reduces the number of decay-causing bacteria so much so that your teeth are able to heal themselves and reverse tooth decay.
Safety & Warnings
Activated Charcoal is a very active ingredient and needs to be handled carefully. Meaning, be very precise with how much you want to put in your toothpaste!
I do not recommend using more than 1 teaspoon (better less!) in this recipe because too much charcoal may cause damage to your enamel.
Also, do not use this toothpaste for an extended period of time! Make one batch (which will last you 1-2 months) and then make a different toothpaste (like this turmeric toothpaste for whiter teeth) for the next 2-3 times, before making this homemade charcoal toothpaste again.
Homemade Charcoal Toothpaste
Equipment
Preferably, don't use any metal utensils because of the clay's and charcoal's absorptive properties. Wood, plastic, or glass bowl and spoon are better.
Instructions
If your coconut oil isn't liquid, melt it in the microwave or over the stovetop.

In a bowl (wood, plastic or glass) mix clay, charcoal, and xylitol (if using) with a spoon or spatula (also, wood, plastic, glass or silicone).

Now add liquid coconut oil. Add your preferred amount of drops of essential oil to one of the tablespoons of coconut oil before mixing it in.

Mix until everything is well incorporated and no lumps are left. If the toothpaste seems too crumbly, add more oil. If too runny, add more clay.

Store in a 60ml / 2oz container. A little glass jar works best.
Notes
clay

:

it's fairly important to use a fine grade (food instead of cosmetic grade). Otherwise, your paste will rather feel like sand

and might cause damage to your enamel.

activated charcoal: don't use more than recommended in this recipe. Activated Charcoal is an active ingredient and may cause damage to your enamel when used too often or too much. Make this toothpaste only 3-4 times a year! Also, be aware that it likes to stain everything. You should be able to wash it out if you spill, but just to keep in mind.


essential oils:

I usually

use

20

drops

max

.

For this toothpaste, I love using peppermint. If using strong oils like cinnamon or clove, only use 5-10!
Resources